Coloured Contact Lenses – Choosing The Best For Your Skin Tone And Hair Colour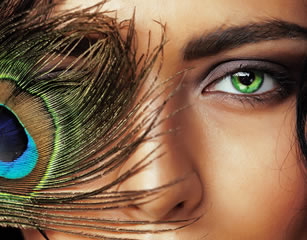 One reason might be to brighten and define their natural eye colour. Another reason could be to change the colour of their eye occasionally. For example: If a person has naturally blue eyes, wearing a lens in the shade of emerald will provide beautiful aquamarine eyes.
There is no denying that contact lenses are popular amongst people for many reasons. Not only people find contact lenses comfortable than glasses but also, they are fashionable too. Contact lenses, especially the coloured ones, can change your overall appearance. If you are planning to buy your first coloured contact lenses, go through this guide that will help you choose the best colour lenses based on your hair and skin tone.
Coloured Contact Lenses for Dark Skin
For people with dusky and dark complexion, there is a good opportunity for them to choose from a variety of colours, depending on what type of end results one wants to achieve. Truth be told, warm coloured contact lenses look best on dark skin tones. Try warm brown or hazel to get a sharper look. If you want a more aesthetic appeal with a touch of sensuality, wear honey or autumn coloured lens, even grey lens will work wonder on a dark skin tone. However, it is better to stay away from flashy colours like aqua or pink as they won't complement your look.
For Tanned/Medium Skin
People with tanned/brown or medium skin should opt for bright coloured contact lenses as they will make their eyes look shinier. Tanned/brown skin people should generally choose amongst hazel, green, honey, sapphire or navy contacts to wear and should avoid wearing bright blues like turquoise/ aqua. The reason being, they don't usually pair well with caramel skin tones. Additionally, if you choose to go for neutrals like brown or grey contacts, be certain about the shades (light/bright).
For Fair Skin
If you have a fair skin tone, congratulations! There are high chances that all coloured contacts will look great on your personality. Particularly, coloured lenses in the shades of blue and grey will give you an elegant look. Also, fair skin is considered a perfect backdrop for bright eye colours as it enhances the overall appeal. Choosing contact lenses that shine bright like turquoise, purple and aqua will make you stand out of the crowd.
Aside from skin tones, be considerate about your hair colour as well.
For Black Hair
The cool-toned hair shades like blue-black match well with the blue or purple contacts. For a more natural look, go for brown contact lenses.
For Blonde and Golden-brown hair
Blonde and light hair works well with dark coloured contacts like black, chocolate and deep browns. Lighter lenses in shades of grey and beige will also work well, but will give you a Caucasian look, especially if you are Asian.
For Medium Brown Hair
Mostly all contact lenses pair well with medium brown hair and are guaranteed to look realistic.
No matter what colour you choose, make sure to get your eyes tested by a professional, reputed optician before buying any kind of Australian contact lenses. This way you'll also know whether contact lenses are suitable for your eyes or not. Also, you'll know your exact visual requirement as well.